Backloading Quotes Can Save Money

So, you're preparing to move. No doubt you are looking for the cheapest possible removalist quote.
Did you know that there is a great way to help reduce your removalist costs while still receiving the same high-quality service?
It's called backloading, and it's a great alternative to traditional removalist services for those looking to get a low-cost moving quote.
What is Backloading and Why is it Cheaper?
Backloading is utilised when a truck is returning home from a trip empty. If you are moving in the direction of the returning carriage, you can backload.
Since the truck is already headed in the direction of where you are moving to, and it is empty, you can get your furniture transported at a fraction of the cost of traditional removalist services.
Why? because you are not paying for the use of the truck in both directions.
Additionally, you can share space with other backloaders, meaning you only pay for the area on the truck that your stuff occupies.
This situation is a win for both the mover, in the form of cheap backloading quotes, and the trucking company in the way of additional income for their return trip.
Removalist Quotes
Moving Quotes premium service, low prices

Moving Interstate Quotes, save money every time

Reliable Removalist Quotes - All your info is easily edited.

Removalist Costs halved when compared to many other removals companies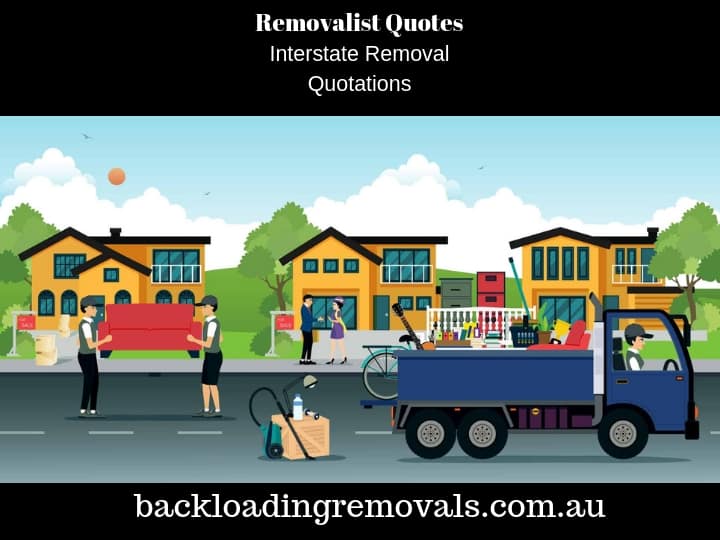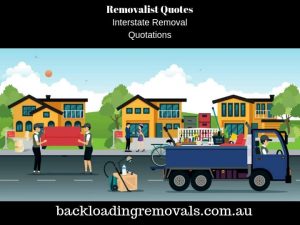 To ensure we have all the correct information need to provide you with removal quotes, we will require a form completed on our website
The form is located here Quote Page
This form contains several options, it lists a huge amount of different items that you may have in your home, and you can select each item with a quantity.
It also allows for you to enter a cubic value, if for instance your furniture and belongings are in a self-storage facility and its too hard to complete an inventory of goods to be moved, you can just advise of of size of the move.
Please be aware we require a figure in cubic meters, not square meters, this is important
There is also an option on the quote form that allows you to add extra items and their dimensions to your quote, so if you want us to move some oversized items then this will enable you to advise complete dimensions of all or any details as you see fit
If you have a list of items that you have prepared, then this can be pasted directly into the quote page, as the final option
These can be adjusted at any time, and if you forget what you have advised us, you can bring up and easily view and previous quotes that we may have done for you.
We have found this system to be the most reliable way to ensure that we are always able to give you the best removal quotes.
Once you have completed the removal quote form, then we will typically email you a quote within a few hours, this quote may provide several options to help you decide on which removalist to use, and which option of moving quotations is what you want to go ahead with
Affordable and Accurate Backloading Quotes
Getting an affordable and accurate backloading quote is quick and easy. Simply provide us with the details of your move and we get to work giving you the most accurate quote for service possible.
In order to get the most accurate quote, you will need to provide us with the following:
-Where are you moving to? How far is the move?
-How much stuff are you moving?
-When are you moving?
-Your contact details so we can get in touch
That's it! You give us this information and we give you an affordable backloading quote.
Why Choose Us for Backloading Quotes?
We provide quick, easy and convenient quotes for your next move.
We employ a team of expert removalists who are dedicated to making your move as smooth, easy and cost efficient as possible.
We work hard to save you the most money possible by providing affordable removalist quotes that fit any budget. With trucks running daily, scheduling your move is easy and convenient.
Ready for your backloading quote? Give us a call or fill out our online quote inquiry today!
One of our friendly professionals will work with you to get you the cheapest backloading quote that works with your schedule.